BOOT TECHNOLOGY, COMPONENTS & CERTIFICATIONS
BELLEVILLE SOLING SYSTEM CONSTRUCTION METHODS
VANGUARD Direct-Attach Single and Duel Injection
A highly advanced soling method that permanently fuses the leather upper of the boot to the entire outsole system to produce a boot that is lightweight, flexible and extremely durable. During this process, the polyurethane midsole material is injected into a mold and adheres to the upper, forming a permanent bond during the cooling process. A premium VIBRAM® rubber outsole is then attached to the midsole to complete the process. Boots made using the direct-attach construction can be resoled.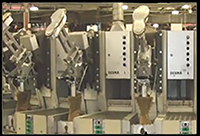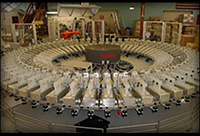 CEMENT CONSTRUCTION
A process frequently used in running shoe construction, cement construction is when the outsole of the boot is glued to the leather upper. Boots made with a cement construction are typically lighter in weight and offer a great deal of flexibility; however, cannot be resoled.
BELLEVILLE EXCLUSIVE HIGH PERFORMACE INSOLES
Shock Master

™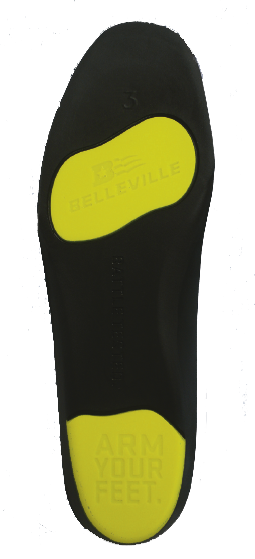 100% made in the USA and Berry Compliant, the Belleville Shock Master™ comfort insole is made of advanced duel density polyurethane for long-lasting cushioning comfort. The highly flexible shock-attenuating construction minimizes stress on the foot with each and every step. In addition, the Belleville Shock Master™ also utilizes the SILVERPLUS® anti-microbial technology which destroys odor producing microorganisms.
Advanced Anatomical Design includes a stabilizing contoured heel cup; extended arch support and honeycomb geometric forefoot to provide maximum air circulation. State-of-the-art materials included advances EVA resin that forms the heel & mid-foot cradle, Agion® treated anti-bacterial sock liner and high tech EVA/Rubber blend for impact cushioning.

The PTO® orthotic footbed is a proprietary load-bearing removable insert that uniquely combines the benefits of shock absorbing foam with superior arch support.

Design features of the PTO include:

Heat reducing, low friction "ETC" lining
Anatomically molded cradle provides load-bearing arch support
Forefoot perforations to enhance air circulation
Non-compressing soft PU provides superior rebound & shock absorption
Deep heel cup to align & stabilize foot
Heel "window" ensures extra cushioning with every step
HIGH PERFORMANCE MATERIALS
VIBRAM®
For more than 70 years, the famous yellow octagon that identifies the Vibram® brand has been synonymous with quality, performance, safety, innovation and design. Vibram® soles, created with a desire to increase safety and protection levels, are the result of a constant commitment to research and development.
Developed using only the best designs and compounds available to withstand the elements in which the boot will be used, Vibram® outsoles continually prove to be irreplaceable companions during many extreme expeditions.
New soles are always produced with three objectives: to guarantee the best performance, the maximum level of comfort and quality over time.
With so many military personnel around the world relying daily on their Belleville's, Belleville in-turn relies on Vibram®. Most Belleville boots feature a Vibram® outsole made of 100% rubber for maximum performance.
Over the years, Belleville and Vibram® have provided millions of boots to over 30 militaries across the globe. With the worldwide design, compounding and production abilities of Vibram®,
Belleville customers are guaranteed quality and performance world over.
GORE-TEX
GORE-TEX footwear provides durably waterproof protection that is highly breathable in a variety of climate conditions. GORE-TEX fabric is engineered to keep moisture from entering the boot while allowing perspiration to escape. The optimal combination of breathability and insulation keeps feet drier while maintaining comfort. This helps prevent feet from overheating or issues caused by excessive perspiration build up inside the boots. The GORE-TEX lining is also POL (Petroleum, Oil and Lubricant) resistant.
THINSULATE™
This original "warm without bulk" product was developed specifically for footwear. With its micro-fibers trapping and holding body heat, THINSULATE™ maintains warmth even in damp conditions. Not only is it exceptionally thin, but is also extremely lightweight and durable.
HIGH CLEARANCE SAFETY TOES
Each of our high-clearance steel and composite toes meet ASTM F2412-18 and F213-18 standards for impact & compression and EH rated. Design extras, such as padding under and around the safety toe and our flange-anchored construction, provide both increased comfort and safety.
FULL GRAIN LEATHER
We only use the finest quality full-grain, cowhide leather in all of our boots. This durable leather is engineered for superior breathability and long-lasting wear.
Full-grain leather (the highest quality of cowhide leather) has many properties making it a superior material for footwear. It's thicker, stronger and less prone to cracking than other leathers, as well as more flexible and breathable. Cowhide leather also naturally repels moisture, retains its shape, and resists sun and heat damage, making it ideal for boots.
CERTIFICATIONS & APPROVALS

Belleville offers many styles of boots that comply with the Berry Amendment which requires that 100% of the labor & 100% of the material comes from the U.S.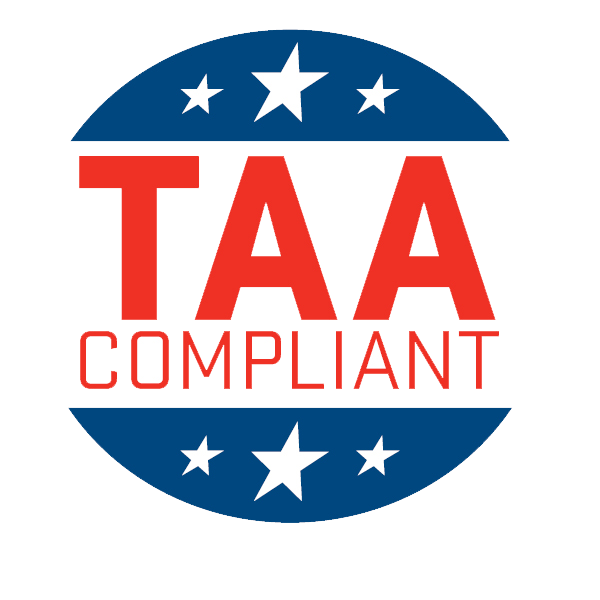 Belleville offers boots that are compliant with the Trade Agreements Act.
As the oldest and leading manufacturer of boots for the U.S. Military, Belleville has the largest assortment of certified flight boots across all military branches: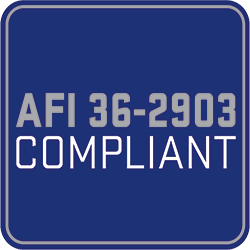 US AIR FORCE COMPLIANT

US AIR FORCE FLIGHT APPROVED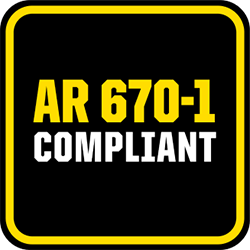 US ARMY COMPLIANT

US ARMY FLIGHT APPROVED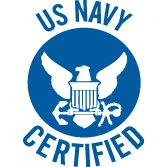 US NAVY CERTIFIED

US NAVY FLIGHT APPROVED

US NAVY FLIGHT DECK APPROVED

US MARINE CORPS CERTIFIED

US MARINE CORPS FLIGHT APPROVED