GSA Purchases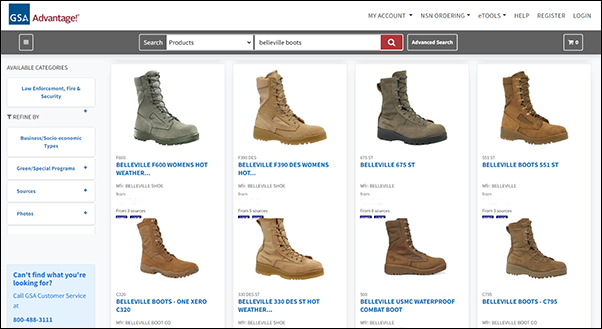 If you are an eligible GSA buyer and would like to purchase Belleville boots from a Federal Supply Schedule, please visit the GSA Advantage® website to make your purchase.
Simply type "Belleville boots" and a listing of our GSA approved vendors and style offerings will appear.
For more information on ordering from Federal Supply Schedules click on the FSS Schedules button at fss.gsa.gov.
BELLEVILLE offers many styles that are made in the USA and comply with the BERRY Amendment, Buy America Act (BAA) and Trade Agreement Act (TAA).
BELLEVILLE B2B

BellevilleB2B.com is a convenient business to business site exclusively for qualified Belleville dealers offering:
- Easy order placement
- Real-time inventory accessibility
- Convenient order tracking
- and more!
Call Customer Service at 800-376-6978 to inquire about obtaining a user name & password.