SHIPPING COSTS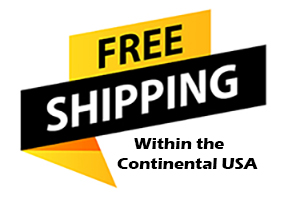 Standard shipping is free for all customers shipping within the Continental U.S.
Additional fees do apply for shipments going to Alaska & Hawaii, an APO/FPO address or an international address, or if expedited shipping is required.
*Please note, Expedited shipping is not available for shipments to PO Boxes within the Continental USA.
Shipments to Alaska and Hawaii
1 pair

2 pairs

3 pairs

4+ pairs

UPS Priority Overnight

$66.00

$93.00

$115.00

Call for pricing

UPS 2nd Day Air

$38.00

$55.00

$70.00
---
Shipping to United States Military Post Offices (APO/FPO)
All orders shipped to APO and FPO addresses will be sent via the United States Postal Service (USPS). Unfortunately, final destination tracking information is not available for USPS shipments sent to APO/FPO locations once it enters the military postal system.
There is an additional charge of $15.00 per pair for all orders shipped to APO/FPO locations.
Estimated delivery is 10 to 20 business days of order **
Important: Certain locations may require additional time in transit depending upon your delivery schedule
** Estimated delivery times are determined based on order processing and packing time required (typically 24-48 hours) plus shipment time required. These are only estimates.
---
Shipping to International Addresses
Please call 1-800-376-6978 if you require international shipping.
---
Estimated Delivery Times
Most Belleville Boot orders ship within 2 business days. Estimated delivery times are only estimates. Utilize order tracking to accurately follow the shipping status of each unique order. Estimated delivery times are determined based on order processing and warehouse packing time required plus shipment time required by the carrier:
Order Processing and Warehouse Packing Time (24-48 hours) – The time required for an order to move through the system, reach the warehouse floor, and be packed for carrier pick-up. Many orders are completed and ready for shipping within the given business day, but some orders may not be ready to ship until the following business day. A small minority of orders may require additional time due to unique circumstances.
Shipment Time (varies) – The time required for an order to be picked up by the carrier and to be delivered to the intended destination. Shipping carriers determine how many business days are required to deliver. This is dependent on the shipping method selected and the package's starting location and destination location.
Orders are packed only on regular business days. Regular business days include Monday through Friday with the exception of the following holidays:
Martin Luther King Day
Good Friday
Memorial Day
Independence Day
Labor Day
Veteran's Day
Thanksgiving
Day after Thanksgiving
Day before Christmas Day
Christmas Day
Day before New Year's Day
New Year's Day
Please note that orders placed between 10 a.m. Friday and 7 a.m. Monday EST may not be processed until Monday morning. Orders are delivered by the carrier Tuesday through Friday for standard ground and Monday through Friday for two-day and overnight.